Bernoulli Gardens is a large development at the centre of Hobsonville Point. Originally, the site was to feature just 43 suburban residential townhouses (with each site around 152m² each, reaching a density of 65 du/ha), but when Ockham Developments became involved, and a KiwiBuild component was included, creating a truly MDH development became the goal. The developer has high ideals in providing housing, and Ockham's mission statement is a bold one:
"To make beautiful buildings that people love to live in, homes that honour this dynamic Pacific city, stand the test of time, inspire others – and bring an awesome Auckland lifestyle to as many people and communities as we can."
The scheme features five buildings wrapping around a central greened courtyard, with 120 units in total. In line with all Ockham developments, the Bernoulli Gardens project is composed of only apartments, not townhouses, permitting triple the original density while providing 250% more green space. Initial concepts explored included a building with its back to the main road and a courtyard for cars, but the revised scheme has successfully created a warm green heart to this development, with all buildings facing onto the central common space and the limited amount of car parking kept underground.
Bernoulli Gardens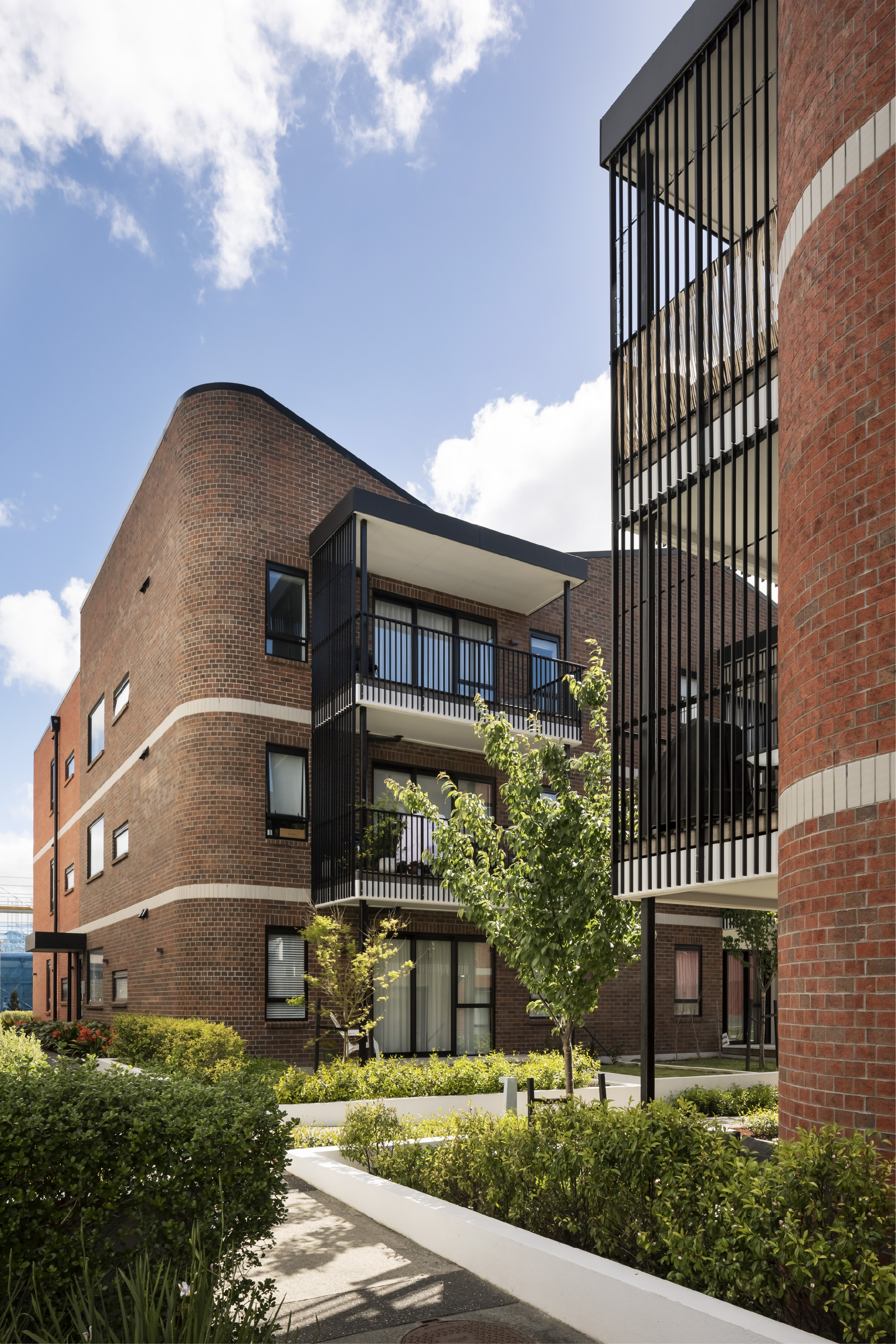 Photos courtesy of Patrick Reynolds
Bernoulli Gardens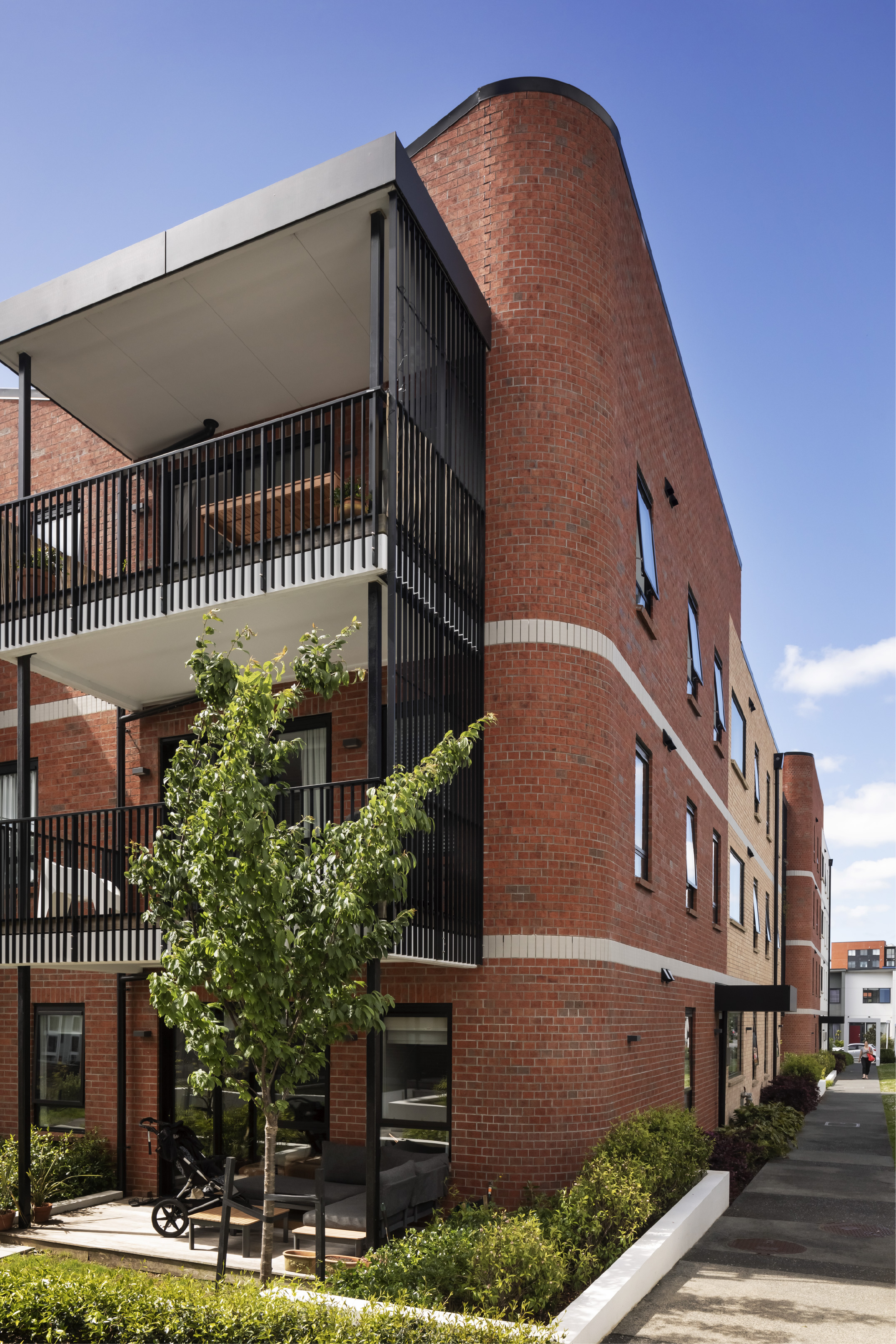 Photos courtesy of Patrick Reynolds
The older weatherboard houses from Hobsonville Point's time as an Air Force base are steadily being replaced by MDH projects, of which Bernoulli Gardens is a leading example. Bernoulli Gardens (named after Daniel Bernoulli, a Swiss mathematical genius whose work explains the effects of airflow over aeroplane wings), sits directly on Hobsonville Road, a main transport route through the Hobsonville area. On the other side of the road is Hobsonville Point Secondary School, so the area is well-suited for parents and their school-age children. No long commute to school or college — it's all at the doorstep.
The Upper Harbour Motorway (SH18) is only a few blocks away, but out of earshot. Bernoulli is on the popular 120 bus route, allowing residents to catch public transport to either Westgate shopping centre, or in the opposite direction to Constellation Drive and the Northern Express bus into the city. The fresh food of the Farmers Market at Catalina Bay is just a short bike ride down the road towards the harbour, and if you want, you can catch a ferry into the city.
Site Plan
Bernoulli Gardens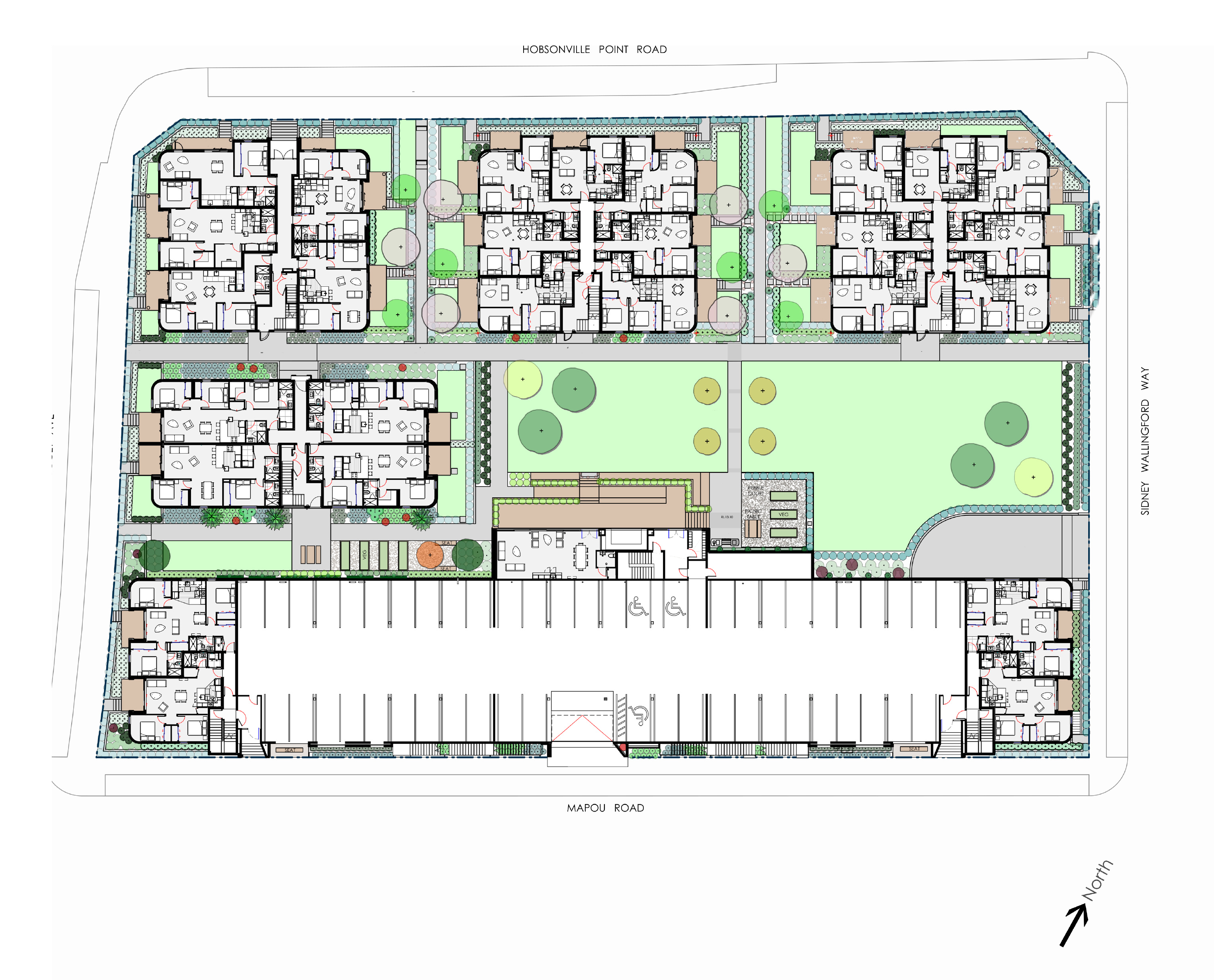 Drawings courtesy of Ockham
Constructed in 2018, the development sits atop a half podium, keeping all the car parking underground. The southernmost block, on Mapou St, is a single-access block, with stairs and an elevator on the south side. It holds the largest number of apartments on site, with the remaining four buildings all much smaller and more traditionally serviced via a central core for each block. The greater density of apartments allowed for the creation of a 1820m² community open space that lies at the centre of the project and creates the heart for the resident community. Bernoulli Gardens epitomises the Ockham approach, appealing to individuals and families looking for a secure social living environment.
There is a mixture of apartment sizes on this project, with just 12 single bedroom apartments and the majority being two-bedroom (62), three-bedroom (12), or others with bedrooms and an internal study (34). Ockham and their clients believe in balconies, and every upper floor apartment has got one, sensibly placed facing the sun and adjacent to the living room, while ground floor apartments open out onto the central commons. The interface between living and deck is taken up with large, glazed openings, but generally, windows are more European in style — small, vertical, punched openings through the brick cladding, ensuring that the apartments stay warm but do not overheat.
The sawtooth roofs evident on the buildings make reference to the former Air Force base and their use of large hangars, while the brick cladding provides a connection back to the local brick factories that used to inhabit Hobsonville. Some corners have a gentle curve in plan, enhancing the comfort of residents on site, and enhancing the development with a European feeling.
Typical Ground Floor Plan
Bernoulli Gardens
Drawings courtesy of Ockham
Typical Midfloor Plan
Bernoulli Gardens
Drawings courtesy of Ockham
Ockham's leader, Mark Todd, lists three clear design principles for his company:
"We want our buildings to be inclusive" — not alienating but perceived by most people as a nice place to live.
"We want our buildings to be distinctly residential"— not mistaken for a commercial office block, or considered soulless and devoid of character.
"We want our buildings to age gracefully" — with minimal maintenance costs. As Mark Todd notes, the higher the density, the more the building should have a zero-maintenance façade, and bricks and concrete are the two most appropriate materials for that approach.
Soil conditions on site dictated that the best solution was driven timber piles with a concrete raft slab over, and steel post and beam main structure. Building One (the larger unit) is built over the car park units via a rib and infill slab construction, with more parking here at ground floor. While middle floors were flat slabs, surrounded by continuous PFC perimeter beams to reduce formwork set-up time, elements such as balconies were precast for speed and quality reasons. Inter-tenancy walls (ITW) are solid masonry or twin walls of timber stud framing. The remainder of the walls are timber frame, with external façade walls complete with a rigid air barrier to support the brick veneer cladding. Because the structure (column, slab) is independent of the internal walls, apartment boundaries could be varied for some units, without compromising the architecture; this was used to advantage during the marketing phase.
As with all Ockham developments, the exterior cladding is mostly brick for longevity and low maintenance. Bernoulli has a quite traditional brick appearance and gives off a comforting feeling of permanence and character. While some Ockham developments feature striking coloured glazes on the bricks, the Bernoulli is primarily various shades of more traditional, warm, rich red bricks, interspersed with areas of exposed concrete trim. Balconies have dark vertical balustrades which help emphasise the height and also offer moderate privacy.
While many architects and developers will use more lightweight materials for cladding, the philosophy here is to create long-lasting façades composed of quality hard-wearing materials, in this case brick — a traditional choice around the globe. That said, the choice to use brick has not made these buildings look or feel old or traditional; the way they are detailed leaves the viewer in no doubt that these are modern apartment buildings. From the inside, all the apartments feel warm, comfortable and very modern, with a 2.65m stud height to all units, lowered where necessary in bedrooms and bathrooms to suit services such as mechanical extract ventilation to bathrooms and kitchens.
While the living areas near the balcony feature large glazed openings, on the whole the windows of the apartment are small, vertical, punched openings through the brick cladding, allowing generous internal wall elevations. Views out are primarily to the greened central common grounds, planted in grass with a growing canopy of deciduous trees. Rather than feeling cramped or closed in as some MDH projects do, Bernoulli Gardens lives up to its aim of relaxed, comfortable living, at remarkably affordable prices.
On a development this size the use of a centralised hot water system makes good sense, so there are no HWC within apartments, but instead a ring main offers continuous hot water supply to all residents. The boiler room is located in the main building, while for heating and cooling there are individual heat pumps for each apartment. For ventilation, units have mechanical extract systems for bathrooms etc, but there is also passive cross- ventilation to allow residents to manage their airflow, and passive trickle vents to all the (double-glazed) windows.
The use of a central 'village green' or 'commons' here is welcomed by the residents, but another unusual and highly welcome addition is the generously sized communal residents lounge adjacent to the gardens. It can be used by all the residents for reading, studying and communal meetings, but can also be rented out to other community groups. There are also features in the adjoining gardens such as vegetable growing areas and barbecue installations. Communal facilities include a bicycle rack with enough space for all the residents, and storage lockers in the basement with the car parks.
Bernoulli Gardens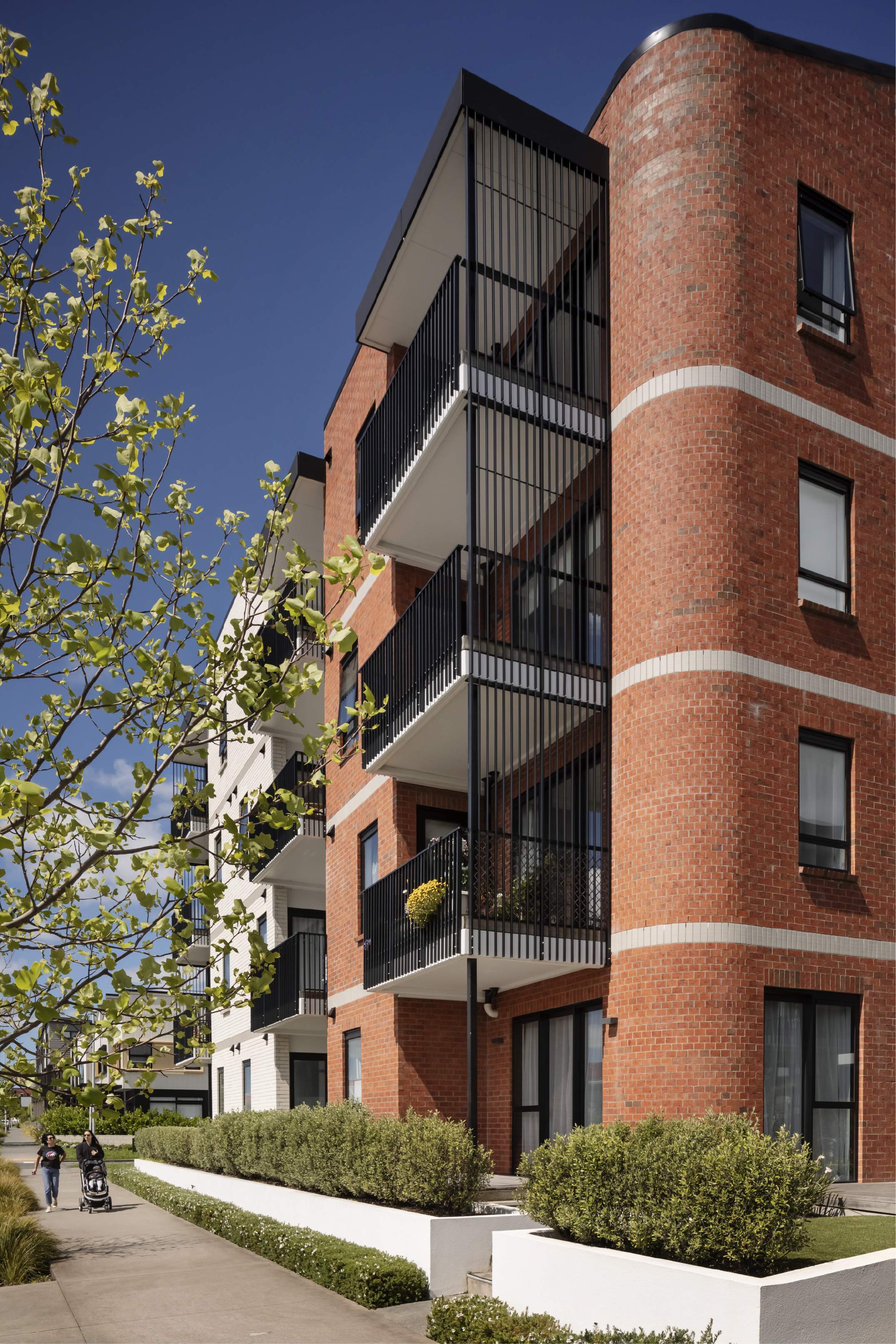 Photos courtesy of Patrick Reynolds